All-Inclusive Pricing
Dreams
Room

Type

View

Room photo

2

Guests

(price per person)

3

Guests

(price per person)

4

Guests

(price per person)

Junior Suite King
Garden
Junior Suite Doubles
Garden
Junior Suite King
Pool
Junior Suite Doubles
Pool
Junior Suite King
Partial OV
Junior Suite Doubles
Partial OV
Junior Suite King
Ocean View
Junior Suite Doubles
Ocean View
Preferred Jr Suite King
Ocean View
Preferred Jr Suite Doubles
Ocean View
Preferred Jr Suite King
Swim Out
Preferred Jr Suite Doubles
Swim Out
Preferred Jr Suite King
Ocean Front Private Pool
Preferred Jr Suite Doubles
Ocean Front Private Pool
Master Suite King
Ocean View
Master Suite Doubles
Ocean View
Master Suite King
Swim Out
Master Suite King
Ocean Front Private Pool
2 bdrm Villa King & Queens
Pool View
Paramount Suite King
Ocean View
Presidential Family Suite King & Queens
Ocean View
Secrets
Room

Type

View

Room photo

2

Guests

(price per person)

3

Guests

(price per person)

Junior Suite King
Garden
Junior Suite Doubles
Garden
Junior Suite King
Partial OV
Junior Suite King
Swim Out
Junior Suite Doubles
Swim Out
Junior Suite King
Ocean View
Junior Suite Doubles
Ocean View
Preferred Jr Suite King
Ocean View
Preferred Jr Suite King
Swim Out
Preferred Jr Suite Doubles
Swim Out
Preferred Jr Suite King
Ocean Front
Preferred Jr Suite Doubles
Ocean Front
Master Suite King
Ocean View
Master Suite King
Ocean Front
Master Suite King
Ocean Front Private Pool
Presidential Suite King
Ocean Front
* These 4 person occupancy rooms are only available to book by phone and are reserved for families traveling with at least one child 12 years of age and under.
** The rates shown for Single Guests include a small discount for single occupancy.
This event is sold in USD and all transactions will be charged as USD. Currency conversion is shown for example purposes only. All payments will be processed as USD and are subject to your bank's exchange rate at the time of each transaction and are also subject to any foreign transaction fees of your bank.
NOTE: Non-accommodation perks for Preferred category rooms don't apply to Etheridge Island.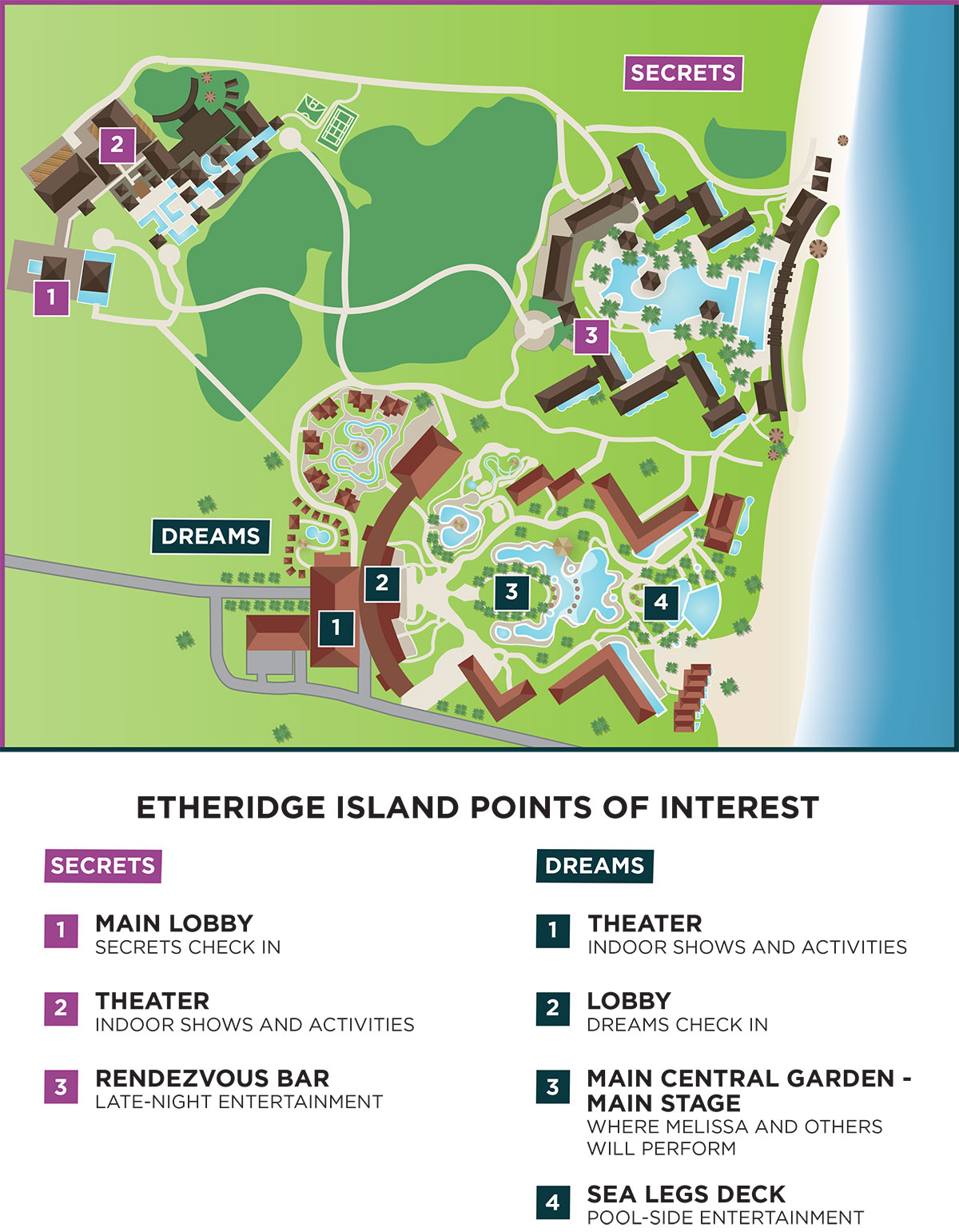 What Will I Owe If I Book Today?
Automatic Monthly Billing
( per person)
due at booking
additional monthly payments
-

total cost
Deposit Now, Pay Later

total cost
When You Need To Sleep
All Rooms Include
Furnished balcony or terrace with Jacuzzi

Free mini-bar with soft drinks, juice, bottled water and beer, refreshed daily

Daily maid service
Free wireless internet

Bathrobes and slippers

Nespresso coffee machine
Hair dryer. Iron and ironing board

Flat screen LED cable TV with remote control

Air conditioning with in-room climate control and ceiling fan

Direct dial telephone
Electronic in-room safe