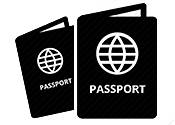 At time of booking, you acknowledge that the laws that regulate the necessary travel documentation are subject to change and that it is your responsibility to be aware of what is required for travel.

All guests are required to carry a valid passport, not expiring within six (6) months of the return of your trip.

Please note that the name on your ticket must match the name on your passport or you will need to provide an original copy of proof of change of name (marriage license, etc).