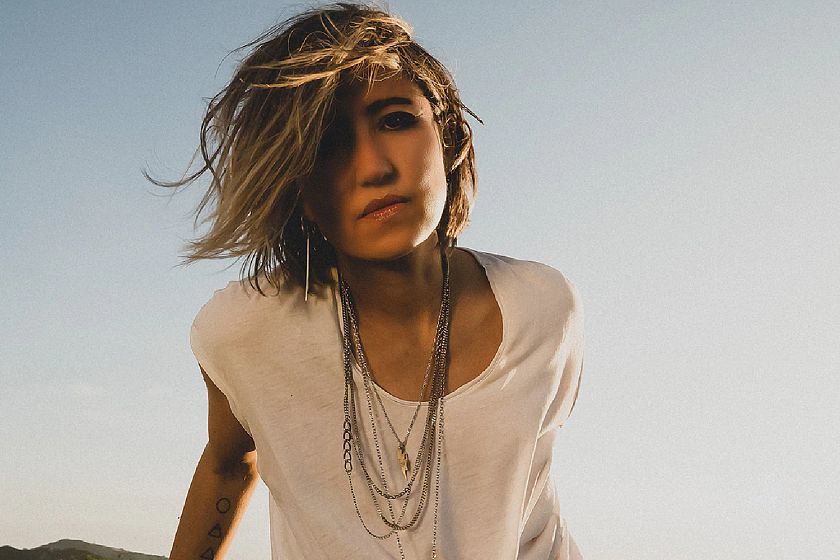 KT Tunstall
KT Tunstall
Since scoring a worldwide smash with her debut album Eye To The Telescope in 2004, which went on to sell over 5 million copies, KT Tunstall has remained at the forefront of UK Singer-Songwriter talent. KT followed up that early success with albums Drastic Fantastic, Tiger Suit and Invisible Empire//Crescent Moon in 2007, 2010 and 2013 respectively, keeping the platinum sales rolling and cementing the Scottish singer-songwriter's reputation as a major recording talent, as well as a mesmerising live artist.

2012 and the years that followed saw a seismic shift in outlook - the loss of her father, a divorce, and a relocation to Venice Beach, California.

After a period of healing, soul-searching, and a change of scenery, 2016 hailed the arrival of the first of a trilogy of albums, the critically acclaimed UK top 10 album KIN. The trilogy evokes, separately and in
sequence, spirit, body and mind. With KIN being her phoenix- from-the-ashes 'spirit' album, 2018 marked the second offering of that trilogy, the 'body' album WAX. The first single from this release, "The River", was named one of Rolling Stone's 'Songs You Need To Know'.

Tunstall has toured the world many times over. She outsold every other female artist in the UK in 2005, won the 2006 Brit Award for Best British Female Solo Artist, won the Ivor Novello Best Song award for her huge, self-penned hit "Suddenly I See", and a Q award for Track of the Year. She also landed a Grammy nomination for Best Female Pop Vocal Performance with "Black Horse and the Cherry Tree", and lent her tunes to a host of movies and TV shows ("Suddenly I See" being used in the iconic opening scene of modern classic Meryl Streep film The Devil Wears Prada).

The last few years have seen something of a creative rebirth for Tunstall. Upon relocating to the west coast of the USA, she was accepted as one of six annual fellows for the Sundance Film Institute's Composers Lab (hosted by George Lucas's Skywalker Ranch in Northern California) and has since scored music for short and feature films. She has also been awarded the Inspirational Artist gong at the Women In Music Awards and was chosen as the first ever female Grand Marshal (following the likes of Sir Sean Connery) to lead April 2018's annual New York Tartan Week parade. In May 2018 she and Mike McCready, of legendary multi-million selling Pearl Jam, released a cover of Tom Petty's huge hit single "I Won't Back Down" with proceeds going to Pearl Jam's Vitalogy Foundation.

In 2018, KT performed sold-out intimate headline shows across the UK and US and toured worldwide supporting acclaimed artists including Simple Minds, The Pretenders, and Barenaked Ladies.

2019 saw KT perform a large headline tour across the UK and Europe with her all-female band, playing festivals all over the UK (including a headline set at Glastonbury Festival). She toured the US & Canada, Japan, China, the Netherlands, Mexico and Brazil, as well supporting Hall & Oates on their UK arena tour.

Touring continued for KT in early 2020 with headline shows in the US, performing with Jools Holland across Europe, and playing New York's Madison Square Garden - supporting Hall and Oates.

During the Covid-19 pandemic lockdown, KT continued to keep busy with various online performances, working on her next studio album, as well as recording and releasing remote collaborations; including songs with Roger Taylor of Queen ("We're All Just Trying To Get By" from his UK Top 3 album Outsider), Alan Cumming ("Caledonia"), Lottery Winners ("Dance With The Devil" from their UK Top 40 album Something To Leave The House For) and a Christmas release with Chris Leonard (a cover of Chuck Berry's "Run Rudolph Run").

In late 2021, KT headed back out on the road. She supported Rick Astley on his huge UK Arena tour, performed on-board the Melissa Etheridge Cruise and played a run of sold-out solo dates in the US. Ending the year in style, KT was appointed the huge honour of headlining the legendary New Year's Eve celebrations in Times Square, New York, which saw KT perform her hits - as well as a cover of John Lennon's "Imagine" moments before the famous ball drop - to a live crowd of 15,000, with a further 1 Billion viewers watching worldwide!