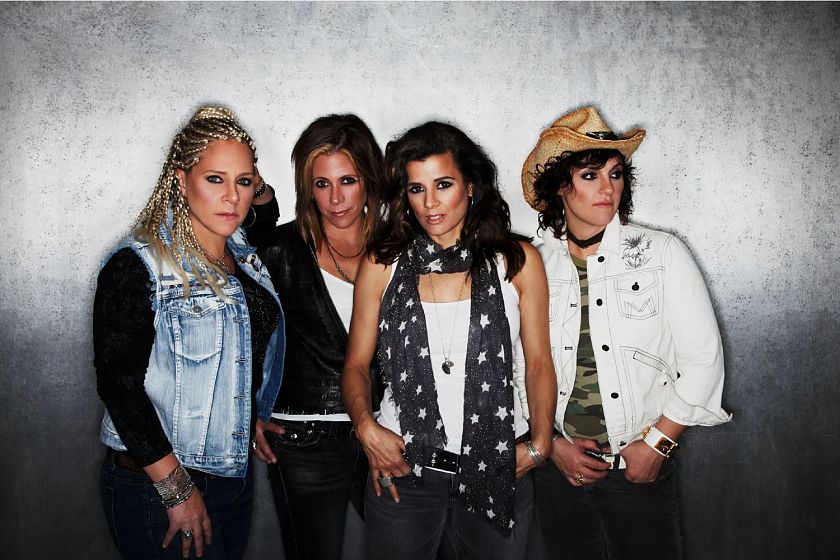 Antigone Rising
Antigone Rising
Founding members Cathy and Kristen Henderson along with lead singer Nini Camps, are rejoined by longtime drummer Dena Tauriello for their week long stay on Etheridge Island. The reunion marks an end to a four year separation that both band and fans are thrilled to be celebrating.
Antigone Rising is best known for grassroots touring, racking up 280 shows a year through the early 2000s before signing a deal with Atlantic Records. Success at country radio as well as on VH-1 and CMT helped solidify the band's reputation both musically and commercially.
While touring alongside The Rolling Stones, Aerosmith, and most recently Melissa Etheridge have given the band plenty of street credibility, it's paying it forward to young kids now that gives the band a renewed focus that comes across in their music. Through their nonprofit, Girls Rising, Antigone Rising is mentoring and empowering young girls and LGBTQ kids to be all they can be through outreaches and an annual music festival.
The band's latest release, True Joy (2022), enlists a multitude of female artists behind the scenes. From grammy winning songwriters, to producers, engineers and mixers, an A list of female talent was employed to create the album. Once recorded, female directors, editors and graphic designers were used wherever possible to help Antigone Rising present their vision of marrying mission to music.
True Joy album highlights include the song "Avalanche", a powerful anthem of female empowerment, "Right There With You", a southern rock blues ballad, and "Badlands," a song co-written with Grammy award winning songwriter, Lori McKenna in which the band's harmonies nod in the direction of Crosby, Stills and Nash.