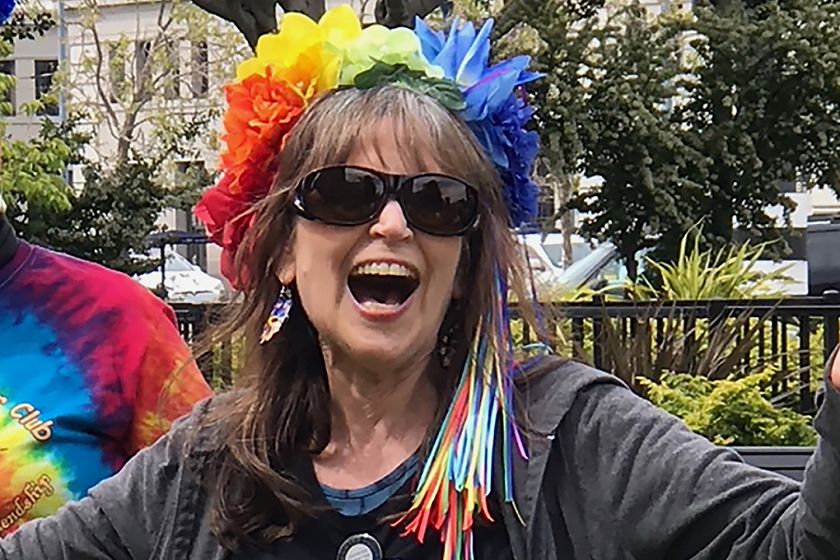 Laughter Yoga with Linda Kalb Hamm
Laughter Yoga with Linda Kalb Hamm
Linda has always been fascinated by the mind and spirit. After completing her undergraduate studies in Sociology and Psychology at U.C. Berkeley, she was drawn to the philosophy of the Montessori education system because of its celebration of the joy and wonder of childhood and its emphasis on a genuine, universal connection with others. Her Montessori training gave her a unique perspective of education ... that its highest purpose was to teach compassion and respect for all who inhabit the world around us, something Dr. Maria Montessori described as "education for peace." According to Linda, "The delight that my students expressed in this learning environment was contagious!"​
Now, Linda teaches another form of gleeful and infectious learning that connects students of all ages to the people and world around them ... Laughter Yoga! Whether she is working with children, teens, adults , seniors or memory care patients, she experiences that same contagious delight of childhood as her students discover the relaxation and joy of unconditional laughter.
Linda believes that Laughter Yoga is the best integrative work-out for body, mind and soul. It has provided her with the tools to stay positive throughout some challenging personal and health ordeals. She knows that laughter can give us the ability to handle whatever life sends our way, and helps us lead a healthy, balanced, positive, caring and joyful existence. Like other laughter professionals, her mission is to share the jubilance of unconditional laughter with students of all ages to promote a better life, a peaceful world and a graceful transition to whatever is next!
A Laughter Yoga International certified leader and trainer, she founded "Laughing My Angst Off Laughter Yoga" in 2012. Over the past decade, Linda has watched the benefits of her practice become widely accepted by the medical and wellness communities. Her presentations have included Dignity Health, Sutter Health and UC Davis Medical Center, where she currently teaches for the UCD Living Fit Forever program. As a facilitator for the Sacramento LGBTQ+ Community Center, she created the Center's first Laughter Yoga social group and led workshops at Sacramento's most recent Pride Celebration.
Linda has been a "live music maniac" ever since she attended her first Rolling Stones Concert in junior high school. Music festivals are her favorite place to share the laughter, song, dance and play components of Laughter Yoga, because laughter, like music, creates a genuine sense of kindness and connection with others. She's an annual workshop presenter at California Worldfest and is delighted to be returning to teach once again for Sixthman and Melissa Etheridge.